We love reviews, this is how we can improve our service to you. If you have used any of our services, please feel free to write a review below.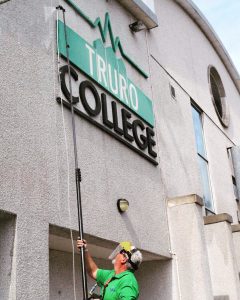 Clear and Clean
Average rating:
63 reviews
Mar 5, 2021
I'd booked Darren and we'd had to rearrange because of the recent strong winds. Today was perfect weather and Darren arrived with (reading the other reviews!) his son, I think. I left them to it and went back to online work. When I popped outside during lunch break, I almost didn't recognise my own house!! I couldn't believe that ALL the horrible black algae had TOTALLY disappeared. What a transformation! I wholeheartedly agree with the other reviews, wouldn't hesitate to recommend this team and will be using them again for the recommended two-yearly maintenance. 🙂
Jan 27, 2021
Darren and Kieran have done an amazing job on my town house today - it's by a brook and had 20 years worth of algae to clear ! They are all they say they are, professional efficient trustworthy and knowledgeable add to that grafters , respectful and nice blokes ! Really competitive pricing and worth every penny . They have worked during these difficult times and worked in line, and above , all social distancing and hygiene requirements . Thanks guys couldn't ask for a better service.
Jan 27, 2021
A huge thank you to Darren and his son Kyron, they soft cleansed the whole

exterior of our house, garage and boundary walls. They advised me hairline

fracturing in the render would be virtually invisible after the clean, ensured that

our dog was kept inside, and even removed bird fat balls to protect the birds.

The finished result is exceptionally pleasing, gone is all the unsightly black

staining, and the house looks like new. I highly recommend this company, they

are professional, polite, and courteous, and ensure that as a customer you are

entirely satisfied with the results.
Nantrisack holiday cottages
Jan 27, 2021
Thankyou so much to Darren and Kyran

Very professional job done at our holiday cottages

Very Efficient outstanding job

Thankyou
Jan 27, 2021
Darren and his workmate did a fantastic job on my roof, gutters and uPVC today.

I was especially pleased with the explanation of what they were going to do and why, and by the way in which they cleaned everything up afterwards.

They were friendly, knowledgeable and efficient. I would thoroughly recommend them and their work.
Jan 27, 2021
Very professional, perfect cleaning and efficient.
Jan 27, 2021
My roof and guttering was heavily laden with moss and debris from overhanging trees - Darren and Kyran cleared it and treated the roof to prevent moss build up - i received information on exactly what the work would involve and i received advice on future maintenance - all the debris was taken away and there was no mess at all - I am really pleased with every aspect of the job and i highly recommend clear and clean - thank you both for a job very well done
Jan 27, 2021
Very fast response to my initial contact, arrived exactly when promised, work carried out thoroughly and carefully, invoiced the same day and paid the same day. Really impressive results with no damage to the building or anything surrounding it. Helpful and friendly throughout. Many thanks!
Jan 27, 2021
Darren and Kieran cleared the gutters and other outside areas today and as previously I couldn't be happier with the work they did for me – the roof of the house which was cleared of heavy moss previously is still looking so good that a roofer working nearby referred to my house as the one with the "new" roof - the house is 60 years old and the roof is the same age - Darren and Kieran are experienced and professional they are very willing they have a pleasant attitude they explain everything and give good advice and for all these reasons i recommend clear and clean very highly - thanks again Darren and Keiran for a job well done - see you next time +++++
Jan 27, 2021
Had the guttering cleared and cleaned they were very efficient did a fantastic job and even cleaned the windows 5 star .
We are always looking to help you keep your property in top condition. Contact us today for a free, no obligation quote. We offer our services to the whole of Devon and Cornwall and they include the following:
Render Cleaning
We offer our services to the whole of Devon and Cornwall and they include the following.
Pressure Washing
We have both van & trailer mounted pressure washers. Along side with our low pressure cleaning.
Softwash Cleaning
Soft washing is a low pressure cleaning process commonly used to safely treat and remove organic matter.
Steam Cleaning
Providing environmentally friendly restoration cleaning. Steam reduces reliance on chemicals.
Window Cleaning
We offer this service commercial. All cleaning is undertaken using our reach and wash system.
Roof Cleaning
Many roofs are effected from Algae, Lichen and Moss. We remove and applicate a biocide treatment.
Gutter Cleaning
We have many years of gutter cleaning experience to offer. We are fully trained with iPAF powered access. Fully trained to work at heights safely.
Commercial Cleaning
We have many years of commercial cleaning experience to offer. We are fully trained with iPAF powered access. Fully trained to work at heights safely.
Driveway Cleaning
Clear and Clean offer high quality, professional cleaning for all forms of driveways, with over 30 years' experience to give you the best results.
Address
Clear and Clean SW,
22 Derwent Avenue,
Efford,
Plymouth,
PL3 6JW