Roof cleaning in Devon and Cornwall.
Moss & Algae tend to grow and spread in damp shaded areas, which makes the roof of your property a great breeding ground for organisms. Moss holds water and can add weight to your roof, lifting and cracking tiles.
Many people like the look of Moss growing on their properties, but what they don't know is, this is slowly making the roof deteriorate. This can also avoid detecting any repairs that are needed.
Moss and Algae is slowly eroding roof tiles, causing them to become brittle over time. Having your roof cleaned can have many benefits, such as :
Avoiding costly repairs or Roof replacement.
Improving the appearance of your property.
Adding value to your house.
Enhancing selling power.
Increase the life span of your roof.
This does not only benefit your roof but improves the quality of your gutter system. The main reason why your gutters become blocked and damaged is due to moss falling off the roof, blocking down pipes and gutters. This results in water building up from the Wet British weather adding unnecessary weight to gutters.
Just because your roof is covered in Organic growth doesn't mean you should replace your roof. Avoid any costly repairs. Reduce the risk by cleansing your roof. Insurance companies can void claims if roofs are not maintained.
Before we start any roof clean, we always survey the property first to ensure there are no problems and what high access equipment is needed for the job. Once the property has been surveyed we can advise what method of cleaning we think your roof tiles would benefit from.
Scrape and Biocide
Our aim is to scrape 70% -90% of moss from roof tiles using our custom-built scrapers. We have several profiles to help us get the right shape of the roof tiles. Once the moss has been scraped, we then apply a Professional use only Biocide which will sanitise your roof, killing 100% of organic matter. With the aid of weathering such as wind, rain and sun, your roof will slowly cleanse removing tough organic matter such as lichens and giving your roof a more aesthetic appeal.
Scrape and Biocide is not an instant clean and you will see results over a period of a few months, slowly cleansing giving longevity to your roof tiles Biocide gives a soft and gentle treatment that kills organic growth without damaging surfaces and the environment. The high quality ingredient of 50% DDAC content is the maximum strength government approved Biocide on the market. It has the benefit of a low environmental footprint and biodegrades quickly.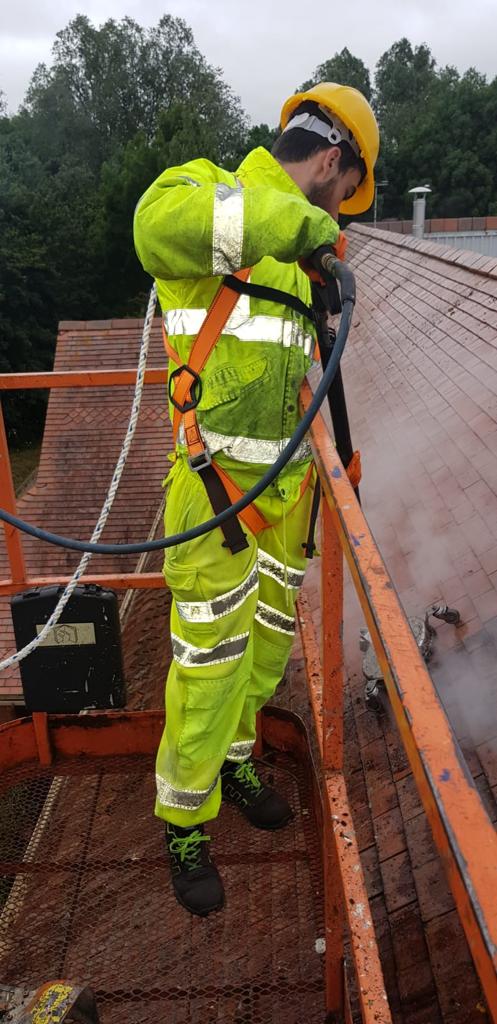 Steam Cleaning
Steam cleaning is undertaken using our Mazonni hot box which can reach temperatures up to 150c. We turn the pressure to as low as 80 bars which means that the steam is doing all the work to remove the organic growth. Once we have steamed the roof we then treat it with a biocide which will kill any remaining spore growth, slowing down any regrowth of Moss and Lichens. With steam, you will see the benefits on day of clean.
Once the roof has been cleaned, our services include vacuuming gutters using our high performance GutterVac system as well as washing down all gutters, windows and Upvc using our hot reach and wash system.
Higher tier waste disposal
All debris is removed from premises and disposed of legally using our higher tier waste disposal licence.
We do not pressure wash any roofs and would not recommend this method of cleaning. High pressure washing can cause damage to your roof tiles which can move, crack or push water through, resulting in costly bills. Our roof cleaning methods are all low pressure and deliver fantastic results.
We are fully insured and compliant with the use of chemicals.
All Certificates can be viewed on our webpage.
Call now for a Free Estimate.
We are always looking to help you keep your property in top condition. Contact us today for a free, no obligation quote. We offer our services to the whole of Devon and Cornwall and they include the following:
Render Cleaning
We offer our services to the whole of Devon and Cornwall and they include the following.
Pressure Washing
We have both van & trailer mounted pressure washers. Along side with our low pressure cleaning.
Softwash Cleaning
Soft washing is a low pressure cleaning process commonly used to safely treat and remove organic matter.
Steam Cleaning
Providing environmentally friendly restoration cleaning. Steam reduces reliance on chemicals.
Window Cleaning
We offer this service commercial. All cleaning is undertaken using our reach and wash system.
Roof Cleaning
Many roofs are effected from Algae, Lichen and Moss. We remove and applicate a biocide treatment.
Gutter Cleaning
We have many years of gutter cleaning experience to offer. We are fully trained with iPAF powered access. Fully trained to work at heights safely.
Commercial Cleaning
We have many years of commercial cleaning experience to offer. We are fully trained with iPAF powered access. Fully trained to work at heights safely.
Driveway Cleaning
Clear and Clean offer high quality, professional cleaning for all forms of driveways, with over 30 years' experience to give you the best results.
Address
Clear and Clean SW,
22 Derwent Avenue,
Efford,
Plymouth,
PL3 6JW