Soft wash is the safe and efficient way to clean exterior surfaces, such as roofing, cladding, render and more. Choose Clear & Clean for softwash cleaning in Devon and Cornwall.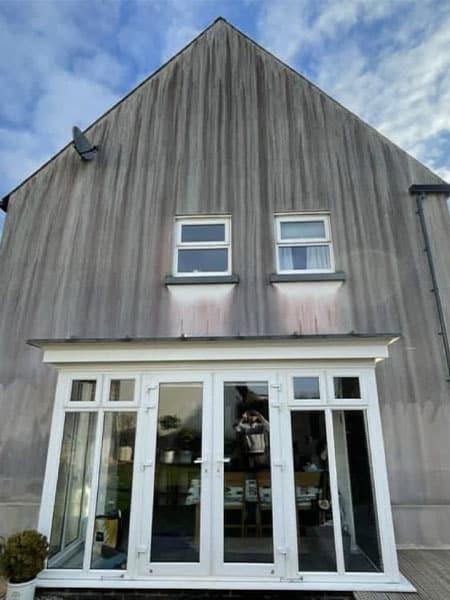 Soft washing is a cleaning method that uses several different stages. These include sodium hypochlorite, professional use only biocide and steam cleaning. All of these cleaning methods use little to no pressure to prevent damage to render and protect your exterior surfaces.
Over the years, weather and pollution changes the appearance of properties. Buildings were traditionally pressure washed then repainted, but high pressure washing often caused more harm by damaging the substrates within the render, cladding or stonework and feeding organic matter.
Soft washing treats all types of external surfaces including render, cladding, roof tiles, walls, patios and drives. Clear and Clean are fully trained and have taken all the necessary courses to advise the best soft washing methods for all your exterior soft wash needs.
Sodium Hypochlorite
Sodium hypochlorite is a powerful cleanser which rapidly removes black, red, green and yellow staining from exterior surfaces of your home. This chemical does not bio-accumulate and becomes inactive within 30-60 minutes of application.
Sodium Hypochlorite doesn't only clean, it also sanitises and disinfects exterior surfaces, prolonging any forms of re-growth for several years. Sodium Hypochlorite is an instant cleaner, so you can expect the organic growth to be removed on the day of clean.
Professional Use Only Biocide
Professional use only biocide controls biological growth such as algae, lichen, fungi, moss and mould. This chemical has a better long term protection, remaining deeper into the pores of exterior surfaces. Professional Use Only Biocide has a 50% active Didecyldimethylammonium chloride (DDAC), which can be up to 8x stronger than biocides sold to the general public.
Once dry, the biocide is pH neutral and fully biodegradable in order to be as eco-friendly as possible. Although the customer will notice a difference within seven days, biocide works with weathering and can take up to several months to fully cleanse.
Steam Cleaning
Steam cleaning render is an effective way to remove paint, biological matter and general dirt and grime without causing harm to the substrate. Our gentle steam cleaners can reach temperatures of up to 150 degrees and pressure as low as 60 bar. Steam is a great way for killing organic matter without the use of chemicals, prolonging any forms or regrowth.

Why soft wash?
Soft washing can be one of the most cost effective services for all types of exterior works and is commonly used on rendered surfaces and exterior walls. Although soft washing can save you money, cleaning render and other exterior surfaces without the necessary equipment and correct training can cause serious damage so choose your exterior specialists wisely to give you the best results.
Sanitising by soft washing prior to painting
Paint can cover the visible signs of algae on the surface, but doesn't kill the live spores spreading on your render underneath.
Painting directly over untreated render won't solve your organic growth problems so you can expect to see viable signs of algae spreading through the newly painted walls within months.
Before painting it's essential to treat the render, killing all organic growth, sanitising the render prior to painting.
Soft washing will reduce the organic matter spreading on your newly painted walls.
A soft wash, low pressure chemical treatment will effectively clean and allow your painted render to last longer before discolouration and regrowth of organic matter.
Once your property has been cleaned by soft wash, using a professional and reputable exterior cleaning company, you can enjoy a fully restored property free from pollutants moss and algae.
We are always looking to help you keep your property in top condition. Contact us today for a free, no obligation quote. We offer our services to the whole of Devon and Cornwall and they include the following:
Render Cleaning
We offer our services to the whole of Devon and Cornwall and they include the following.
Pressure Washing
We have both van & trailer mounted pressure washers. Along side with our low pressure cleaning.
Softwash Cleaning
Soft washing is a low pressure cleaning process commonly used to safely treat and remove organic matter.
Steam Cleaning
Providing environmentally friendly restoration cleaning. Steam reduces reliance on chemicals.
Window Cleaning
We offer this service commercial. All cleaning is undertaken using our reach and wash system.
Roof Cleaning
Many roofs are effected from Algae, Lichen and Moss. We remove and applicate a biocide treatment.
Gutter Cleaning
We have many years of gutter cleaning experience to offer. We are fully trained with iPAF powered access. Fully trained to work at heights safely.
Commercial Cleaning
We have many years of commercial cleaning experience to offer. We are fully trained with iPAF powered access. Fully trained to work at heights safely.
Driveway Cleaning
Clear and Clean offer high quality, professional cleaning for all forms of driveways, with over 30 years' experience to give you the best results.
Address
Clear and Clean SW,
22 Derwent Avenue,
Efford,
Plymouth,
PL3 6JW